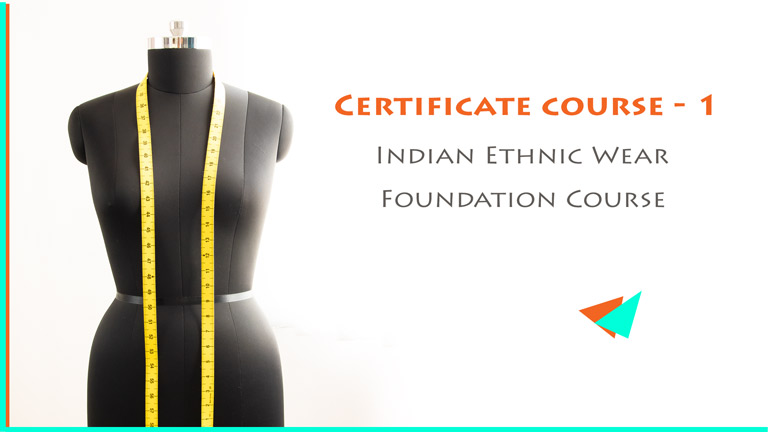 Certificate course - Indian Ethnic Wear Foundation Course-1
(0)
Skill Level :
INTERMEDIATE
Enrolled (0) 25:56:14
Course Details
Saree blouse Class 1 - Foundation class [Choli blouse]
Saree Blouse Class 2 - How to make a Princess blouse
Saree Blouse Class 3 - How to make a Waistband blouse
Saree Blouse Class 4 - Padded blouse with invisible zipper
Saree Blouse Class 5 - How to make Single Katori
Kurtis/Dress Class 1 - How to give darts in a garment
Kurtis/Dress Class2 - How to make Princess seam kurti / dress
Kurtis/Dress Class3 - How to sew a garment with lining
Kurtis/dress Class 4 - How to make flared princess seam
Saree Blouse Class 7 - How to make High neck blouse [Collared]
Saree Blouse Class 6 - How to make Double katori
Saree blouse Class 8 - How to make High neck [Built-in Collar]
Anarkali Class1 - How to make Panelled Anarkali Kameez
Anarkali Class 2 -How to make circular/umbrella cut Anarkali
Kurtis/Dress Class5 - Front open Jacket Style -4 variations
Kurti/Dress Class 6 - Sleeveless Yoke Kurti / Dress
Class 1 - Womens Pants Foundation
Class 2 - Womens Cigarette or Pencil Pants
Class 3 - Palazzo Pants
Class description
Pre-Requisites - Before starting with this Certificate course, please go through our FREE BEGINNERS COURSE - https://www.savisfashionstudio.com/free-beginners-sewing-class.
Please watch the below classes in the sequence. After watching a class, when you are ready for your practicals, please take pictures at different levels like of the fabric, when cutting the fabric and after completion of the garment. Please upload these images after each class. Once you have uploaded the images of all the classes covered in this course, it can be submitted for review and you will get option to the downloadable certificate. You should be able to complete this course within 1 - 6 months.
Watch the classes in this sequence:
1] Free Beginners Course
2] Kurtis Class 1
3] Kurtis Class 2
4] Kurtis Class 3
5] Kurtis Class 4
6] Kurtis Class 5
7] Kurtis Class 6
8] Anarkali Panelled
9] Anarkali Circular
10] Saree Blouse Class 1
11] Saree Blouse Class 2
12] Saree Blouse Class 3
13] Saree Blouse Class 4
14] Saree Blouse Class 5
15] Saree Blouse Class 6
16] Saree Blosue Class 7
17] Saree Blouse Class 8
18] Pants Class 1
19] Pants Class 2
20] Pants Class 3