Body sloper (armhole explanation)
Instructor :
Savitha
Skill Level :
Beginners

00:04:29
Views (4761)
Rating
(3)
Class Description
This class gives further explanation about the armhole.
Class details
Please login to submit your questions
Q : Armhole explanation video 6 of beginners is Missing
- Aayushi (1 year ago)
A :
Do not see anything missing in the video.
Q : Hi mam, I need one clarification, we do chest line adjustment to get armhole measurement while drafting body sloping. Should we do the same while drafting sleeves to get the proper armhole measurement? If yes how to adjust. Please let me know Thanks n regards. Suprabha.
- Suprabha (2 years ago)
A :
Hi,
After drafting the sleeves pattern, measure the front and back curves and see if it matches with the body pattern. If less/more - increase/decrease the ease and redraw the curves of the sleeves.
Q : Hi. My arm hole measurement is less than actual. Im unsure how to adjust check line and where to start. Thanks and love your tutorial
- isvariya (2 years ago)
A :
Thank you.
What is your actual armhole measurement? What is the measurement you get when you measure the front and back curves on the pattern?
Q : Mam how we can take the cap height of children's
- Suman (2 years ago)
A :
The distance from shoulder edge to the biceps or armround.
Q : You explain that in case bust point is out of the line, then ease require to increase .same ease require to reduce from back. With this entire measurement will be the same what we have drwan first ..then how the bust fitting is ok is not understood.
- Snehal (3 years ago)
A :
This would work with darts garment.
Q : Do you take regular classes for single garment like sari blouse
- Suma Shivashankar (3 years ago)
A :
Hi,
Now we do not conduct regular classes.
Q : Hello savi mam, i have query regarding stitch line,when we actually attach sleeves on armhole and put fitting stitch from sleeves till slit.my arhole measurement is 19 and my armround measurent is 14.my cap height is 4 and sleeves open is 14,when i keep sleeves length 5. But when i attach sleeves and put fitting stitch from sleeve open through chest ,the point from chest fitting and sleeves open are not in straight line,its little digonal.please give guidance on this mam.i faced this problem lot of time.
- Asawari (4 years ago)
A :
Hi,
Can you please upload an image of the issue you are explaining?
Q : Thank you mam for the explanation
- Subarnalatha (4 years ago)
A :
You are welcome.
Q : Hi mam, why do we apply armround measurement instead of armhole measurement in both body sloper and sleeves... Kindly explain.
- Subarnalatha (4 years ago)
A :
Hi,
If you apply armhole measurement when drafting the pattern, after you draw the curve it would be too big. Instead when you apply armround measurement and then when you draw the curves, it will give you your armhole curve measurement.
Q : Q : I am getting 2 inch extra arm hole. I have applies the deep neckline pattern (back neck 10) so the chest line has already been shifted upward. How much I shift the chest line near the shoulder line maximum.
- SHREERAM PANDEY (4 years ago)
A :
Hi,
If you are getting extra in the armhole [after body armhole measurement plus ease] you would need to shift the chest line further up. Each body type is different and each pattern the changes could be different. You may shift the chest line till your get your armhole measurement plus ease given on the chest line.
Q : For these measurements, I am getting arm hole 9.5 inches on body pattern and on sleeve pattern, m getting arm hole as 8.15. Allowance given is 1 inch on both the pattern. Now what should I do to match both the arm holes exactly?
- Sarika (4 years ago)
A :
As the body pattern armhole is more, first correct it by shifting the chest line up and redrawing the curve till you get your bpdy armhole measurement and then correct the sleeves to match with the body pattern armhole by increasing or decreasing the ease and redrawing the curves.
Q : I am getting half each extra arm hole. Also, I have applied the deep neckline pattern ( back neck 7) so the chest line has already been shifted upward. And on this new line , m getting half inch extra arm hole.. So still I have to shift it to upward?? Also, should we draw the back arm hole again on new chest line???
- Sarika (4 years ago)
A :
The Chest line needs to be shifted up for both front and back. 1/4" to 1/2" excess does not matter much. However if you wish to make it exact, you may further shift. Yes the armhole curves need to be redrawn for both front and back.
FAQ'S
1] How do I enroll for premium classes?
Click on the class you wish to take and 'ADD TO CART'. You would need to SIGN UP/LOGIN if you have not yet done. Then 'CHECKOUT' and select the payment method. Give your payment details and once the payment is successful, you would have access to the class.
2] I have paid for a class, now how do I view it?
Login and click on 'My courses' on top. That will show you the number of classes you have taken. Click on the class you wish to learn from.
3] How do I ask questions if I need any clarification regarding the premium class?
Click on the Q & A tab below the video, type in your question and submit. We will reply at the earliest. When you receive the reply you will get a notification alert and the reply will be below your question under the respective class.
4] What is the validity of a premium class?
The validity of the class is 1825 days that is approximately 5 years from the date of enrolment. You will be able to view the class any number of times, any time of the day and on any suitable device, within this validity.
Students Who Viewed This Class Also Viewed
About the Instructor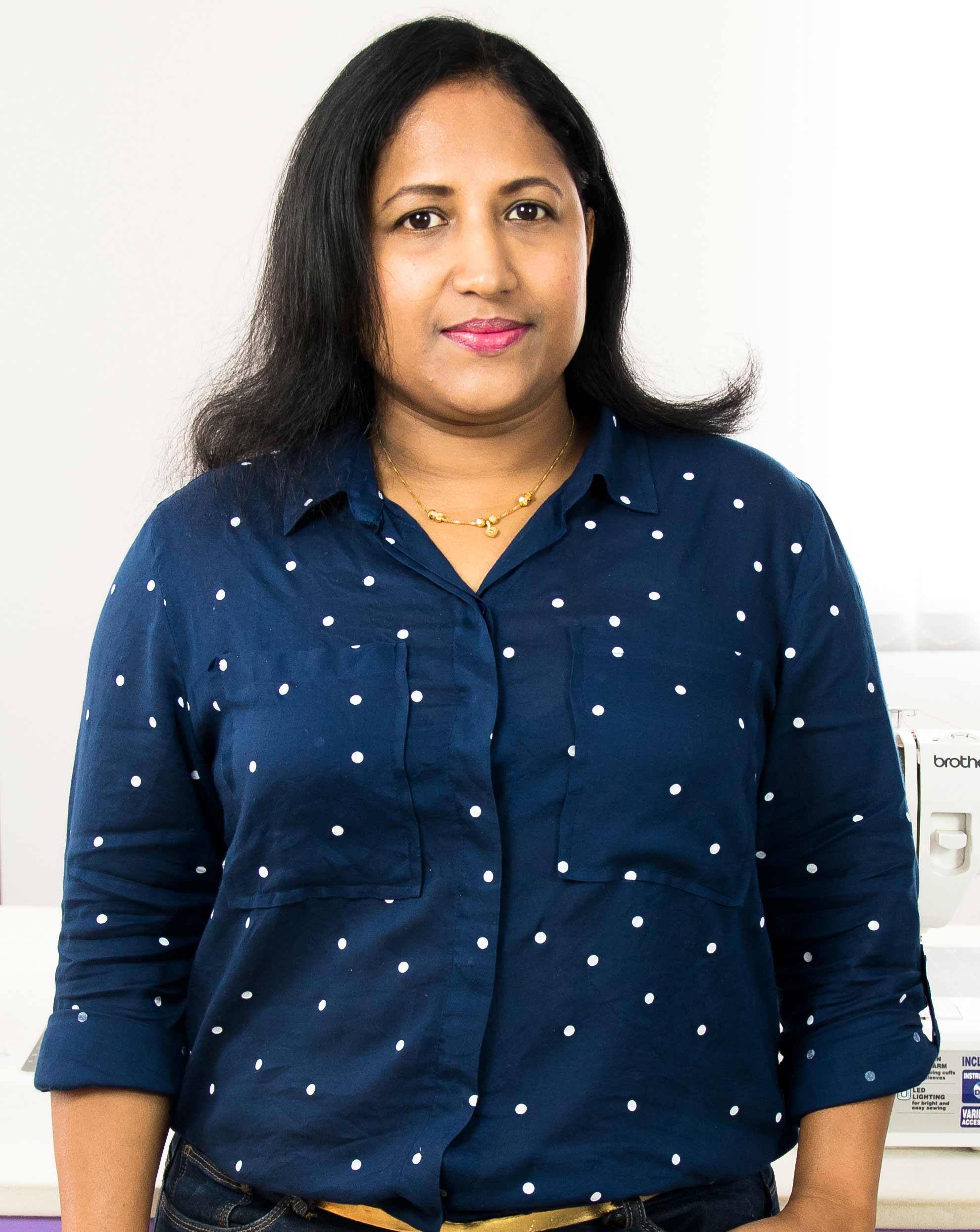 11767 Students
89 Courses
Savitha
Instructor Profile
Ms. Savitha has been conducting classes in Pattern making and sewing since the year 2010. She started with her Online classes to reach out to more students. Her words, "I love sewing and teaching and I have been lucky to be able to make my passion, my profession. I try my best to simplify things and teach in a simple and easy way so that even beginners in pattern making and sewing are able to learn from our online classes and make their garments with professional finish".
Reviews
04-04-2020
Nikita
God bless u savi... I always wanted to peruse fashion designing. But after taking medical, it seemed impossible. It easy way of teaching makes it possible for a student like me to learn. Best classes and honest teacher.
18-10-2017
Jaleena

16-11-2017
mrs. Anitha Harikumar
mam,i have recently joined your online classes and i find it very very helpful as you explain points by pointing out why things are done in a particular manner. i am a novice to tailoring and your classes make learning interesting.
---
Classes you may also like