How to draft sleeves pattern
Instructor :
Savitha
Skill Level :
Beginners

00:04:14
Views (7026)
Rating
(9)
Class Description
Learn to draft sleeves pattern in a step by step and easy way. Practice till you get it perfect.
Class details
Please login to submit your questions
Q : Hi Savi Ma'am .. my sleeve armhole measurement is less than the bodice armhole measurement by 1 inch. How to adjust the sleeve armhole measurement so as to match with the bodice. Sleeve armhole is 17 and 1/4 inch whereas bodice armhole (9 and 3/4" + is 8 & 3/4") 18 and 1/2 inch
- Kavitha (2 months ago)
A :
Hi,
Increase the cap height a little and ease on the armround line a little. May be by around 1/2". That should give you the needed measurement.
Q : What is cap height?kindly explain
- Madhumita (2 months ago)
A :
Cap height is the distance from the shoulder tip to the biceps.
Q : I would like to know how to adjust the curve of the front armhole. I want to create a deeper curve on the front armhole to have a very deep curve but I do not understand the theory well enough to make the required adjustments. Quick drawing for reference enclosed.
- Fiona (8 months ago)
A :
Did not receive any reference image here.
What is the issue you are facing when you draft the sleeves pattern as shown in this class?. Why do you want to create a very deep curve at the front armhole? Sorry the question is not very clear to me.
Q : Hi Savitha, Would you walk the tape at the curve of the armhole scale to get to the 8.5 inch mark? or is it taken diagonally? Could you please confirm it is 8.5 inch or 8 inch? The questions below says 8 where as the video says 8.5 inch. Thank you.
- pnswetha (1 year ago)
A :
Hi,
8 or 8.5" is fine. Just measure straight. This measurement was given only so that beginners get a rough idea on which part of the scale to use. You just need to get a nice smooth curve.
Q : Hi Savitha,
- S (1 year ago)
A :
Hi,
Is there anything I can help you with?
Q : Hi mam, For 3/4th sleeves, how to measure cap hight?
- Suprabha (2 years ago)
A :
Hi,
Cap height remains the same, only the length of the sleeve increases. Check our free tutorial on drafting different sleeve lengths.
https://www.savisfashionstudio.com/sleeve-drafting-theory
Q : From the mid point, you marked 1/2" inward towards body side to make back arm hole curve. Is this constant for any size sleeve? and also if I am making back neck deeper say 8", what will be the distance from the mid point, I want to mark in the sleeve part to make back arm hole curve? Is there any chart for mid point inward distance for back arm hole with respect to the deep neck line theory? Kindly please advice me mam.
- Jani (3 years ago)
A :
In your question "From the mid point, you marked 1/2" inward towards body side to make back arm hole curve." - Are you referring to the sleeves pattern? Do you mean 1/2" marked above from the midpoint. If yes, this remains the same for drafting the back curve in the sleeves pattern.
Q : To make arm hole curve in sleeve , you made marking at 8" in the arm hole curve manually by pen. Is this measurement is standard irrespective of any arm round line distance? Please clarify.
- Jani (3 years ago)
A :
Yes, this marking is done just to give an idea to beginners as to which part of the armhole curve ruler to use. This can be used for all sizes.
Q : Hai mam,this is syamala from Andhrapradesh. Is the presurre foots can set to the jack F4 Machine
- syamala (3 years ago)
A :
Hi,
Which presser foot are you referring to? The presser foot meant for industrial sewing machine will suti Jack F4.
Q : Possible to provide a class on how to make a pattern including the stitch allowances?
- ashraf (3 years ago)
A :
We normally add the seam allowance on fabric before cutting the fabric. We do not include the seam allowance in the paper pattern. However, if you wish you may add the seam allowance in the pattern and then cut the pattern.
Q : There is difference between back armhole of bodice and sleeve (1/2 inch difference). Front matches correctly.
- Pooja (3 years ago)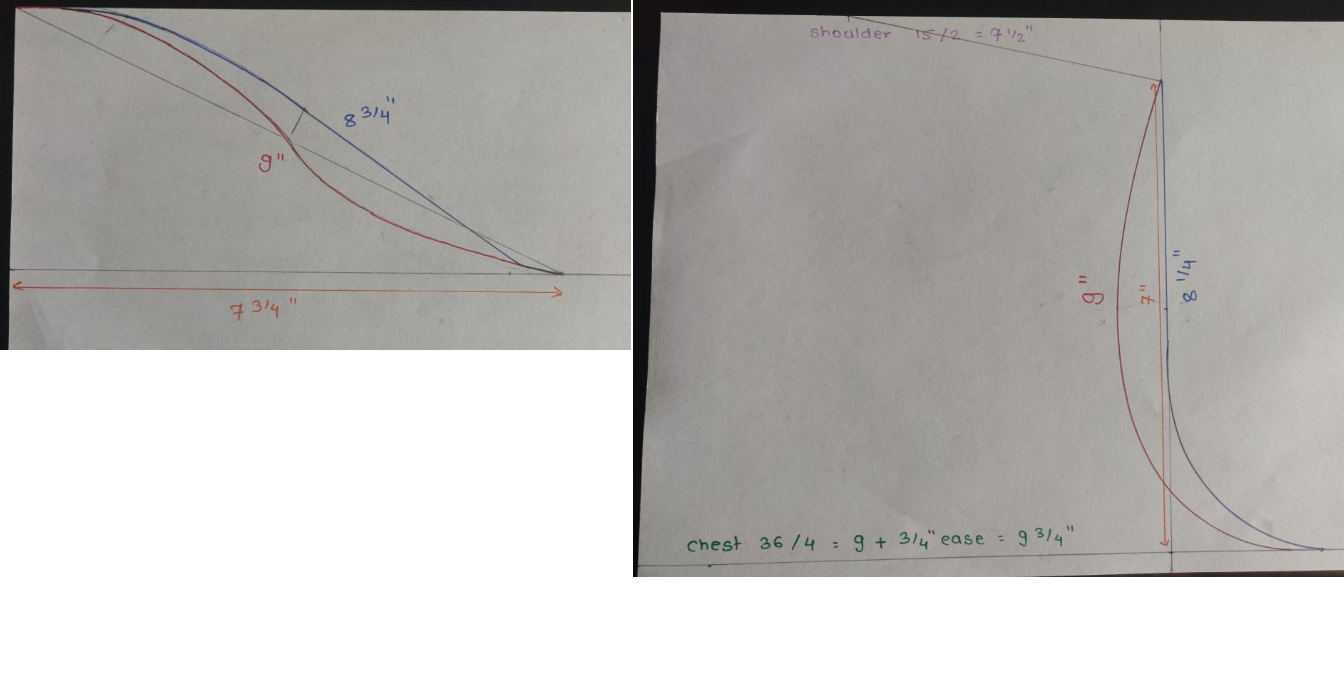 A :
In the sleeve pattern, you may reduce the ease given by 1/4" and redraw the curves. While sewing slightly stretch the front sleeves only in the curved part.
Q : Hi mam. Had one query regarding sleeves. While drafting a sleeve, sleeve round measurement drawn is less than actual arm hole measurement drafted on Bodice when we take half of arm round measurement + ease while drafting sleeves pattern. Also when we draft front and back armhole on sleeve the difference between them is not much but on bodice front and back armhole has half an inch difference due to which while attaching sleeves to bodice they dont match. Please help.
- Pooja (3 years ago)
A :
Hi,
Are you getting a difference when attaching sleeves to the armhole?
Q : Dear Mam, I realized that while drafting the sleeve pattern I was not using the 8" mark everytime. Hence the error. Thank You for guidance. With the help of your course I am able to stitch blouses with perfection.
- Poonam (3 years ago)
A :
Hi, that's great. Once you complete the garment, kindly take a clear picture and upload in the "Project upload" link below the concerned class and also kindly take time to leave a review/rating for the classes you enroll.
Happy Sewing!
Q : Dear Mam, Everytime I get different curve sizes (Addition of front and back arm hole size) even though I use the same arm round measurement and cap height. How to fix this.
- Poonam (3 years ago)
A :
Hi,
If the same armround and cap height measurement is used while drafting the sleeves pattern, how would it change everytime? Are you saying it is not matching with the body pattern armhole? That could happen if the shoulder measurement varies.
Q : Mam on French curve you mark an eight inches it's standard or it's various for all?
- Vrunda (4 years ago)
A :
It can be used for all sizes, I just marked it to make it easy for beginners to get an idea as to which part of this scale to use.
Q : Hi this 8" marking in the armhole curve applies for blouses also?
- R San (4 years ago)
A :
The marking on the armhole curve scale is done only to give an idea to beginners as to which part of the scale to use. Yes the marking can be used for blouse sleeve drafting too.
Q : I,Usha, mean when I join back sleeve curve to back arm hole curve the back sleeve curve comes 1" longer than the back arm hole curve.
- Pradeep Moudgil (4 years ago)
A :
Hi Usha,
After drafting the body pattern, always measure the front and back armhole curves and see that it matches with the body armhole measurement plus ease. If less/more - shift the chest line down/up and redraw the curves.
Then draft the sleeves pattern and again you need to measure the front and back curves and it should match with the body pattern. If less/more - increase/reduce the ease and redraw the curves.
Also you may end up with excess fabric in sleeves, if you unknowingly stretch the sleeve fabric when sewing.
Q : My wife compliments you for the wonder full on-line classes. She says that the back portion of the sleeve is an inch longer than the back arm sync.
- Pradeep Moudgil (4 years ago)
A :
Thank you.
Do you mean the back part of the sleeves is longer then the front?
Q : While drafting the armhole, I had to shift my chest line in order to have the arm hole as my measured value . Hence the arm round used in body piece has decreased. Should I use the arm round as frm the body draft , that is the vertical distance from shoulder point to chest line or the arm round I measured in this sleeve drafting ?
- Archana (5 years ago)
A :
In sleeve drafting, use the original armround measurement. After drawing the curves, again measure the front and back curves and if less/more, increase/reduce the ease and redraw the curves.
FAQ'S
1] How do I enroll for premium classes?
Click on the class you wish to take and 'ADD TO CART'. You would need to SIGN UP/LOGIN if you have not yet done. Then 'CHECKOUT' and select the payment method. Give your payment details and once the payment is successful, you would have access to the class.
2] I have paid for a class, now how do I view it?
Login and click on 'My courses' on top. That will show you the number of classes you have taken. Click on the class you wish to learn from.
3] How do I ask questions if I need any clarification regarding the premium class?
Click on the Q & A tab below the video, type in your question and submit. We will reply at the earliest. When you receive the reply you will get a notification alert and the reply will be below your question under the respective class.
4] What is the validity of a premium class?
The validity of the class is 1825 days that is approximately 5 years from the date of enrolment. You will be able to view the class any number of times, any time of the day and on any suitable device, within this validity.
Students Who Viewed This Class Also Viewed
About the Instructor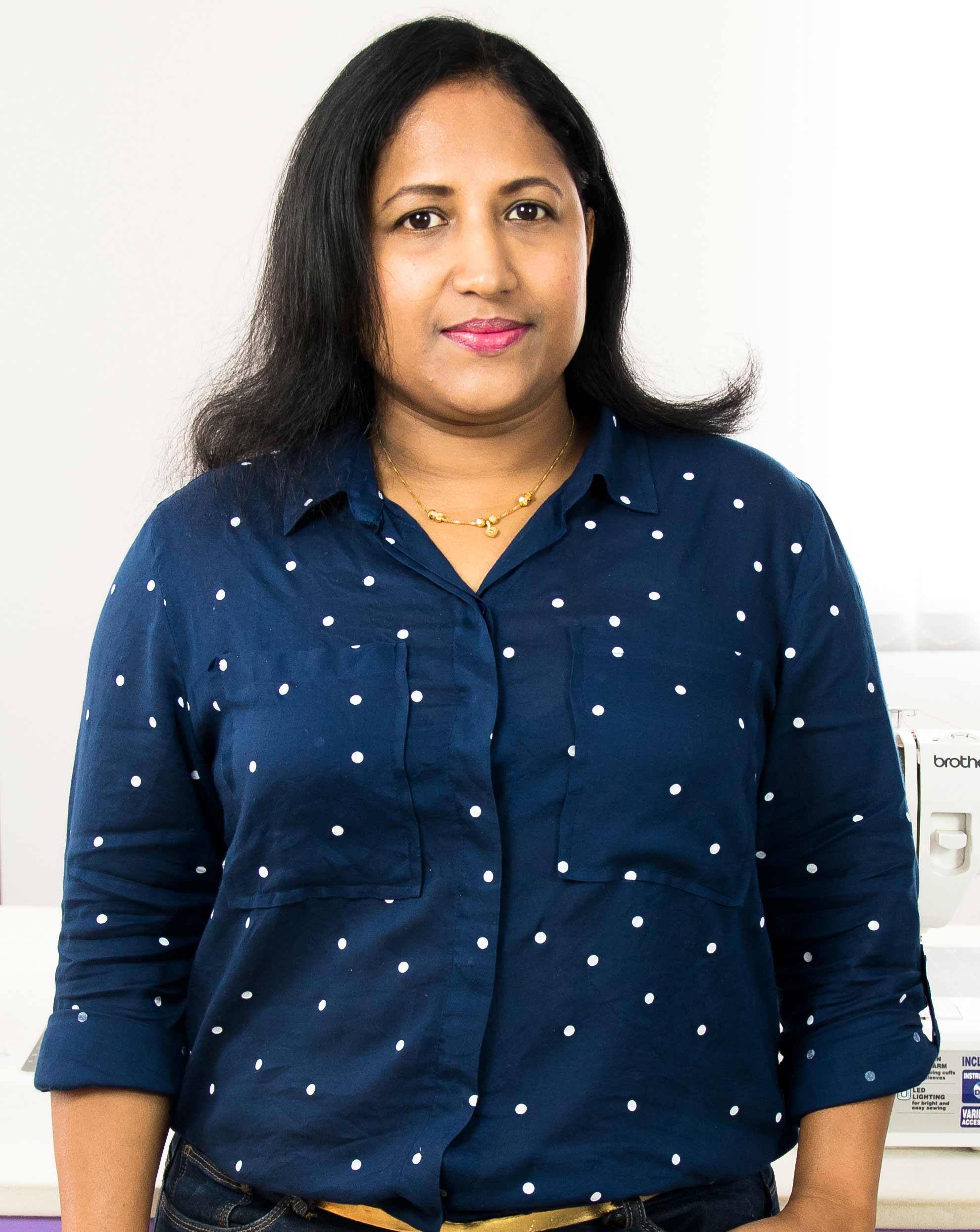 12117 Students
89 Courses
Savitha
Instructor Profile
Ms. Savitha has been conducting classes in Pattern making and sewing since the year 2010. She started with her Online classes to reach out to more students. Her words, "I love sewing and teaching and I have been lucky to be able to make my passion, my profession. I try my best to simplify things and teach in a simple and easy way so that even beginners in pattern making and sewing are able to learn from our online classes and make their garments with professional finish".
Reviews

23-10-2016
Deepti Sreekumar
Very easy and simple explanation
08-06-2018
Srimathi
With Ur clear and crisp explanation sleeves came our perfect thank you so much mam
08-06-2018
Srimathi
With Ur clear and crisp explanation sleeves came our perfect thank you so much mam
---
Classes you may also like