How to take body measurements for dress
Instructor :
Savitha
Skill Level :
Beginners

00:05:24
Views (9608)
Rating
(48)
Class Description
Beginner in pattern making and sewing?
We have lots of free tutorials to help you start your journey in the world of sewing. The classes are designed to help beginners to comfortably start sewing your own clothes. With our free tutorials you can learn from using the sewing machine to completion of a garment. Also learn making bolero jacket with invisible seams, salwar pants, attaching zipper, plackets and many more.
There are classes on tips and tricks of sewing which would help you to sew in an easy and professional way.
In this class, learn to take body measurements for making a dress/kurti in a systematic way.
Class details
| | | |
| --- | --- | --- |
| Class 1 - Taking body measurements | | 00:05:24 |
Please login to submit your questions
Q : Hi Savi ma'am , actually I tried to post my question abt blouse in the Q n A tab below the saree blouse class but its not working. sorry that's why I posted it here.
- Soniya (1 year ago)
A :
Hi,
For thin strap, yes it is attached separately.
Q : Hi Savi ma'am ! Could u plz do a video about angrakha kurta. All ur blouse stitching tutorials were awesome! Plz add more tutorials for blouses and kurtas.Ma'am for a thin strap blouse do we need to attach the strap separately? Thank u so much for all ur help!
- Soniya (1 year ago)
A :
Thank you so much.
Kindly post your question about the blouse in the Q n A tab below the saree blouse class.
Q : Hi Savi ma'am ! Could u plz do a video about angrakha kurta.
- Soniya (1 year ago)
A :
Sure will do soon.
Q : i am just a beginner, i am interested in sewing ,which classes i should take first numerically can you please tell me so that i will learn properly
(1 year ago)
A :
To learn pattern making and sewing from our online classes, first of all kindly SIGN UP, VERIFY & LOGIN on our website.
As ours is classroom style teaching, please watch the classes in the sequence. All the products used in the classes are available online on our website under the SUPPLIES tab and we ship all over India.
You may start with our FREE BEGINNERS COURSE - https://www.savisfashionstudio.com/free-beginners-sewing-class
HOW TO ENROLL:
1] Click on the class/course and ADD TO CART.
2] Then CHECKOUT, Continue and Submit the order.
3] Then click on MY COURSES to start learning.
After the Free Course, you may start with our KURTIS FOUNDATION COURSE - https://www.savisfashionstudio.com/how-to-give-bust-and-waist-darts
Or SAREE BLOUSE FOUNDATION COURSE - https://www.savisfashionstudio.com/saree-blouse-foundation-course
HOW TO ENROLL FOR PAID CLASSES/COURSE:
1] Add the class/course to your CART and CHECKOUT
2] If you reside outside India, you may click on PAYPAL to make the payment. If residing in India, please pay through debit/credit card, netbanking or UPI.
3] After payment click on MY COURSES.
There are many other classes too like Anarkali kameez, designer blouses, Pants etc which can be taken individually.
Please revert for any further clarifications.
Q : Is there a offline course?
- Rosemary (2 years ago)
A :
We were conducting offline classes earlier but since last 6 years, it is only online.
Q : Hi మేడం నాకు onlain క్లాస్ ఏ లా వెళ్ళాలి అర్ధం కావడం లేదు కొంచెం చెప్పండి... ఎవరైనా help చేయండి plezz... నాకు టైలరింగ్ అంటే చాలా ఇష్టం....ఎక్కడికి వెళ్లలేను hose వైఫ్ ని...ప్లీస్ help
- Sri (2 years ago)
A :
கவலைப்பட வேண்டாம், நீங்கள் ஆன்லைனில், உங்கள் வீட்டில் கற்றுக்கொள்ளலாம். எப்படி தொடங்குவது என்று உங்களுக்கு உதவி தேவைப்பட்டால், தயவுசெய்து எங்களை 9611989613 என்ற எண்ணில் அழைக்கலாம்
Q : hi madam,Just started my passion to learn and get well versed and help others as well by me and i would be so happy that your free tutorials really help the passions lovers who are not able to afford it... just wanted say your efforts are really superb mam lastly can you please help us with the maxi sewing with free tutorials really that will help us to sew for own and try for others tooo....thanks in advance and regards
- Bhavya (2 years ago)
A :
Thank you.
Q : Hi mam, You are doing a great job. I'm a beginer and your classes and very simple and easy. The way you are explaining is awesome. As I'm a beginer I don't know much about fabric. So before going into further into the classes iwould like to know about fabric types and project they need to be used. It would be helpful for those are begining to stitching like me. Please post a video about the fabric in detail. Thank you mam.
- Thivya (3 years ago)
A :
Hi,
Thanks for your appreciative words. Yes, I understand the concern about fabrics and we would like to make a detailed video on that. However, also would like to inform you that the fabric world is like a vast ocean, there are so many different kinds, different blends and new ones added regularly.
Q : I am not able to watch the class it's only buffering
- kouser (4 years ago)
A :
Thanks for writing to us.
These are HD videos and needs good internet connection to play smoothly. If your internet speed is slow, you may please change the quality to a lower one to play without buffering. On the video player, right hand side bottom you have an option to change to lower quality.
Q : Can it be in hindi?
- Rekha Singh (4 years ago)
A :
Hi, for now the classes are only in English. However we are trying to find a good translator who can translate in Hindi but then the questions can be answered in English only.
Q : Hello mam. Thanks a lot for this wonderful sewing courses. Could you please teach how to take measurement from already stitched blouse. That will be really helpful. Thanks.
- Nalini (4 years ago)
A :
Hi,
You are welcome. Our teaching method is based on body measurements, however we will try to soon add a class on taking measurements from a ready blouse.
Q : Savitha Ji, my wife feels that you have been trained under Suzi Furrer!
- Pradeep Moudgil (4 years ago)
A :
Hi,
No I didn't but does it matter? Why didn't you feel the other way round :-). Just kidding.
Sometimes you may find similarities in some sewing techniques followed by different people as this skill has been there since ages and some techniques of sewing may be similar and practiced by different people around the world.
Q : Mam is this the same mesurements for men and children
- Violet (5 years ago)
A :
No, there are changes.
Q : Hi, Yes, know that I understand, for Hand part, you have told "half of the arm round from the Body sloper". Just want to confirm, if it is arm round or arm hole.
- Nagavalli (5 years ago)
A :
When drafting pattern, you use the armround [biceps] measurement. Armhole measurement is only used for cross checking - that is after drawing the armhole curves, measure the front and back curves and you should get your armhole measurement plus ease given on chest. If you get less/more, shift the chest line down/up and redraw the curves.
Q : Hi, I have a Question with the clarification in the arm Hole and Arm Round. Everytime I cut the sleeves, it bigger or uneven at the under arm. Initially in your Body measurement video the arm hole was 13 and arm round was 10. But in the drafting and cutting, Basic sloper videos arm hole was thought as 17 and arm round is 13. My measurement is Arm hole 14 and Arm Round is 10. Please help
- Nagavalli (5 years ago)
A :
Hi,
In the First class on taking body measurements, we have shown taking measurements on the mannequin. You would need to take your own measurements in the same way.
In the 2nd class on drafting pattern, we used the measurements of an actual person [not of the mannequin]. While drafting pattern, please use your measurements and not the measurements shown in the video.
After drafting the body pattern, always measure the armhole curve and ensure it is your body measurement plus ease given on chest. If less/more, shift the chest line down/up and redraw the curves.
After drafting sleeves pattern, measure the curves and match it with the body pattern. If the sleeves curve is less/more - increase/decrease the ease and redraw the curves.
Q : Madam, Kindly explain me about WAIST Length in detail. i.e. for Blouse, Kurti , Skirt, etc., especially for Kurti upto where Waist length is to be measured exactly?
- S S RAJESWARI (5 years ago)
A :
For Kurtis/dress we have explained taking the waist measurement in our free tutorial on taking body measurements. Waist length is taken till the smallest part of the waist. If in doubt, you may bend to one side and wherever the waist bends would be the point where you need to take the waist length. For other garments it is explained in the respective classes.
FAQ'S
1] How do I enroll for premium classes?
Click on the class you wish to take and 'ADD TO CART'. You would need to SIGN UP/LOGIN if you have not yet done. Then 'CHECKOUT' and select the payment method. Give your payment details and once the payment is successful, you would have access to the class.
2] I have paid for a class, now how do I view it?
Login and click on 'My courses' on top. That will show you the number of classes you have taken. Click on the class you wish to learn from.
3] How do I ask questions if I need any clarification regarding the premium class?
Click on the Q & A tab below the video, type in your question and submit. We will reply at the earliest. When you receive the reply you will get a notification alert and the reply will be below your question under the respective class.
4] What is the validity of a premium class?
The validity of the class is 1825 days that is approximately 5 years from the date of enrolment. You will be able to view the class any number of times, any time of the day and on any suitable device, within this validity.
Students Who Viewed This Class Also Viewed
About the Instructor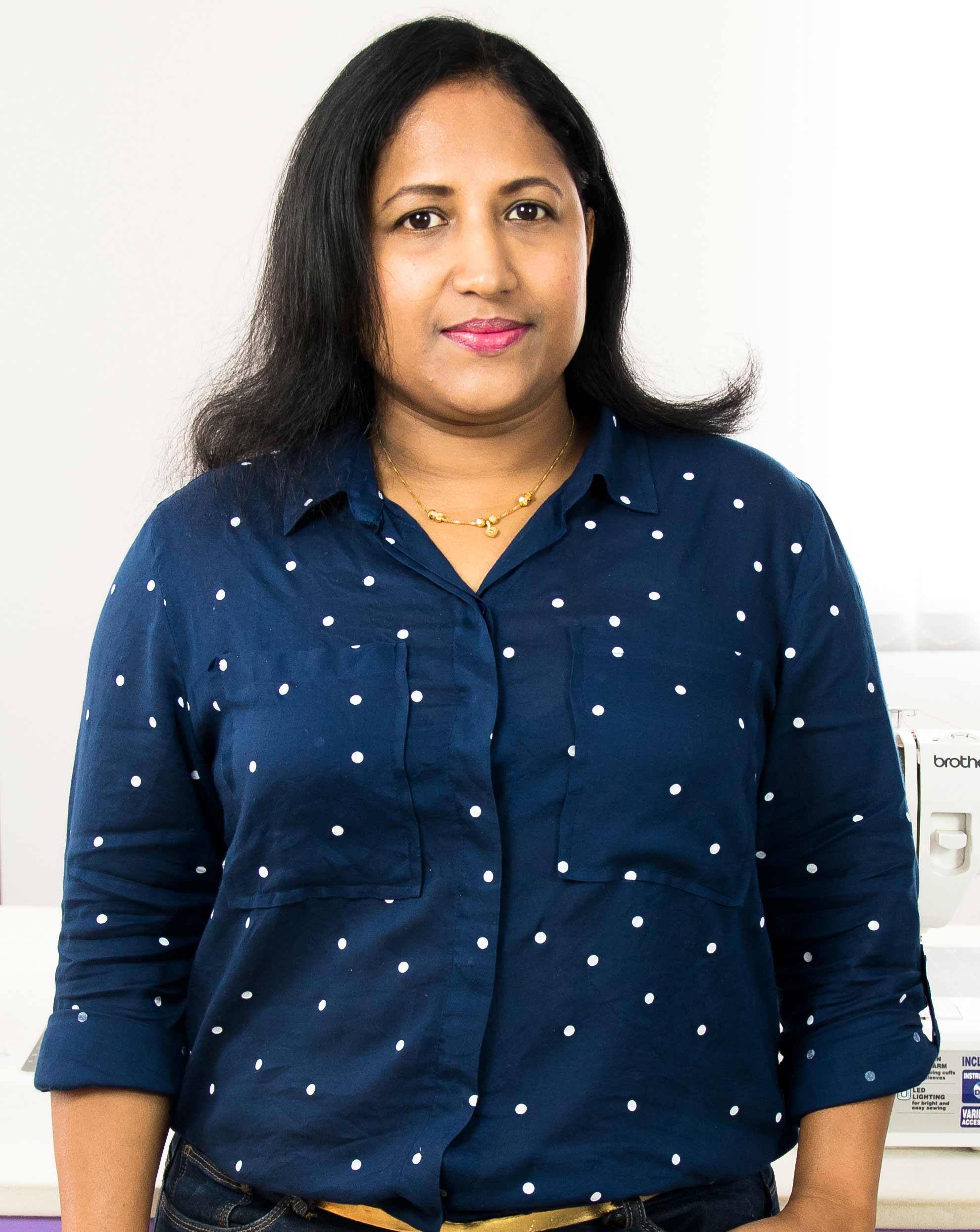 12345 Students
90 Courses
Savitha
Instructor Profile
Ms. Savitha has been conducting classes in Pattern making and sewing since the year 2010. She started with her Online classes to reach out to more students. Her words, "I love sewing and teaching and I have been lucky to be able to make my passion, my profession. I try my best to simplify things and teach in a simple and easy way so that even beginners in pattern making and sewing are able to learn from our online classes and make their garments with professional finish".
Reviews
15-04-2019
Yvette
Hi Savita.....my name is yvette Savyell. Im from Kolkata and I've always had a passion for stitching all kinds of garments etc for men, women and kids. I saw your online classes on YouTube and was very very impressed...so i was wondering if you could teach me in detail how to stitch a Kurt for my size.

02-05-2017
Sowmya
This is extremely well done. No time wasted, short and precise explanation.
09-05-2017
Vamsi
Thank you so much you are helping many by sharing your knowledge & god given gifts. God bless you !!!
---
Classes you may also like